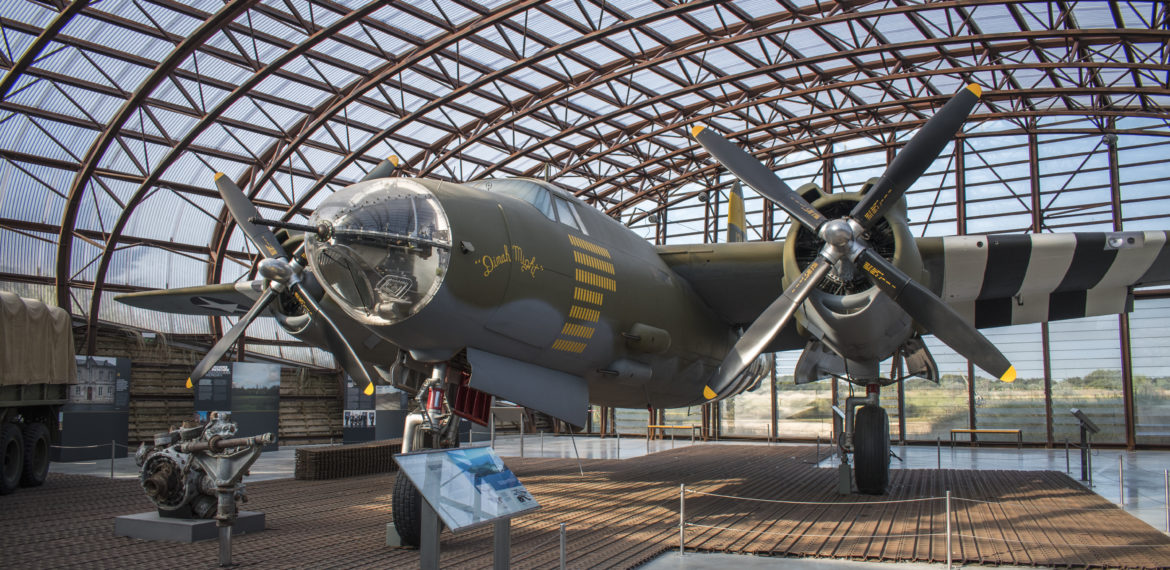 UTAH BEACH THE LANDINGS MUSEUM ON UTAH IN THE MANCHE DEPARTMENT.
Located on the very spot of the historic Utah Beach, the Landings Museum of the same name welcomes you in 9 languages all year round.
In a surprising setting in the middle of the beach where American troops landed on June 6, 1944, the Utah Beach Museum can be found near a large glass roof that sheds light on this very long day. In ten sequences, the museum relates the chronological events that led to this historical event. The History of the D-Day landings is Illustrated with a rich collection of objects, vehicles and testimonies, and made clear by the explanations of the strategic choices made by the allies, crucial choices leading to the success of the D-Day operation.
One of the main pieces of the collection, one of the few intact B26 bombers left in the world, sits under the museum's hangar. On an open house or guided tour (45 minutes or 1 hour 30 minutes, only by reservation), immerse yourself in the emotions and memories of the soldiers who landed under heavy enemy fire.

Gift shop

Camping-car

Dogs not accepted

Parking

Bus parking

Beach

Wifi
Opening time
From October 1st to May 31st: 10am - 6pm
From June 1st to September 30th: 9:30am - 7pm
Closed from 1st to 25th December, open from 26th December to 30th December
(Last entries 5pm)
Closing of the cash registers one hour before the Museum closes
Access / Contact
The Landings Museum of Utah Beach
50480 SAINTE-MARIE-DU-MONT