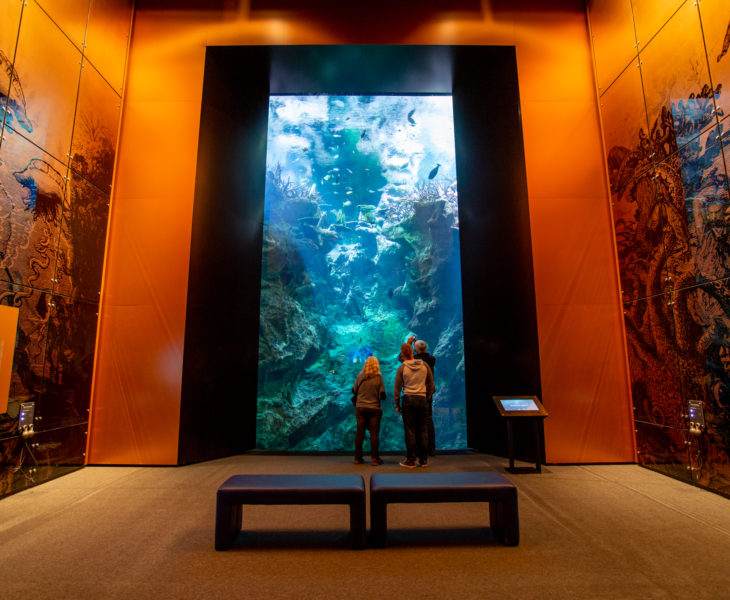 Experience a unique adventure in Normandy at the Ocean of the Future of the City of the Sea of Cherbourg
Discover the new permanent course on 1,400 m2 of the Cité de la Mer. With its 18 interactive themed spaces, its 17 aquariums, you will discover the ocean. From the surface to the abyssal depths, let yourself be lulled by the magic of the deep sea.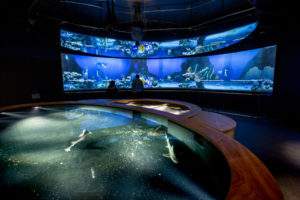 Start the adventure in the heart of the "Planet Ocean".
Enter the new "Planet Ocean" space. It is a true journey through time that awaits you. You will also discover how man and society have evolved with the conquest of the ocean.
Travel to the heart of the Ocean of the future of the City of the Sea
With its new abyssal aquarium, touch screens and films, the Cité de la Mer invites you on a unique journey.
First of all, let yourself be transported to a wonderful world just a few metres underwater. Dive alongside freedivers and equipped divers. Meet dolphins, sharks, and sperm whales.
Then, embark on a journey into the heart of the ocean and the universe of the infinitely small. From plankton to microorganisms, explore the microscopic world and discover the origin of life.
Then observe the riches from the ocean. Get to know the oldest live animals with species that have existed since time immemorial: nautilus, seahorses, jellyfish, morays.
Dive to the abyss and deep sea
Enjoy a fantastic visual and sound experience as you reach the deep sea. Enter an unknown universe populated by fascinating marine animals in the heart of incredible landscapes. Approach wrecks and treasures sunk deep in the oceans and relive man's rich history.
Continue your visit of the Ocean of the Future of the City of the Sea by accessing the Jules Vernes lounge, a window opening onto the ocean with the large Aquarium.
Then, in the sea gardens, improvise yourself as a chef and create a menu made of seafood products. You can also test your sense of smell with the marine diffusers and enjoy a view of a vegetable garden from the sea.
With the aquariums of the "laboratory of the future" and the large dynamic and interactive wall fresco, discover with your family the contributions of the ocean in terms of medicine, pharmacopoeia, cosmetology, food… So many promises and riches from the ocean.
The ocean, a wealth and a common good to protect
But today, the ocean is threatened. In this last space, you will become aware of the impact of mankind on the ocean, on the disturbances and threats that weigh on the ocean. You will understand that the Ocean is at the origin of life and holds the keys to the future of humanity. And that the role of all of us is to protect this common wealth.
Book your tickets and your next family outings in Normandy to enjoy a unique experience at the Cité de la Mer or on: Cité de la Mer ticket office