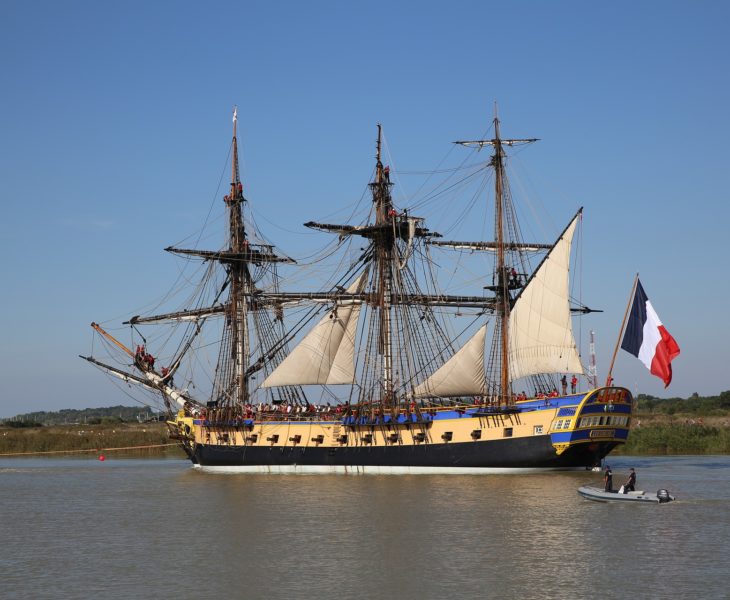 [EVENT] Hermione in Cherbourg-en-Cotentin, from May 4 to 8, on the Quai Alexandre III.
On the occasion of the 75th anniversary of the Allied landing in France, the replica of the famous frigate of the Marquis de La Fayette will make a stopover in Cherbourg-en-Cotentin. This is the first stop on his trip #NormandyFreedom.
Why come to see the Hermione in Cherbourg-en-Cotentin?
In 1780, Hermione was known to have allowed the Marquis de La Fayette to join the American insurgents fighting for their independence in the United States.
A symbol of Franco-American freedom and friendship, Hermione embodies the values of freedom, courage, mutual aid and solidarity that were also expressed on the Normandy beaches in June 1944.
It is also a unique project: to have made a unique, historic replica of an 18th century ship. The Hermione requires a large number of crew members (80) composed of professionals and young volunteers. It requires careful maintenance both at dockside and at sea and therefore a different business model.
It is an extraordinary human and maritime adventure to come and discover.
Hermione in Cherbourg-en-Cotentin, an exceptional event
This is the must-attend event of this spring 2019. It is also the beginning of the festivities for the 75th anniversary of the Allied landings in Normandy.
From May 4 to 8, come and discover many activities. They are planned throughout the stopover: shows, a movie night, workshops and a fireworks display…
Find the program at: https://www.cherbourg.fr/fileadmin/user_upload/programme_hermione_2019.2.pdf
THE PRE-SALE TICKET OFFICE IS SOLD OUT!
It is now necessary to wait for the arrival of the Hermione on May 4 to buy tickets for the village located on the Alexandre III quay. The Cotentin Tourist Office will ensure on-site sales (between 400 and 700 seats per day).
Visits to the Hermione : Come and discover the Hermione.
Saturday, May 4: 2:00-5:30 pm
Sunday, May 5: 9:30am – 5:30pm
Tuesday, May 7: 12:30pm – 5:30pm
Wednesday, May 8: 9:30am – 5:30pm
Price: 2€ (for 6-15 year olds) and 4€ per adult.
Free for children under 6 years old.
THE +: an entrance to the Hermione gives a discount for visiting the partner sites of the stopover: Manufacture des Parapluies de Cherbourg, Thomas Henry Museum, Musée de la Libération, La Cité de la Mer) and giving a hiking game to discover the city.
Other highlights in Cherbourg:
Nautical parade, national navy, outings in the harbour…. Take advantage of the Hermione's stopover to discover Cherbourg harbour and visit the schooner l'Etoile and the base building for Vulcan demining divers.
Remember to book your accommodation in and around Cherbourg-en-Cotentin, go to: www.cotentin-tourisme-normandie.fr