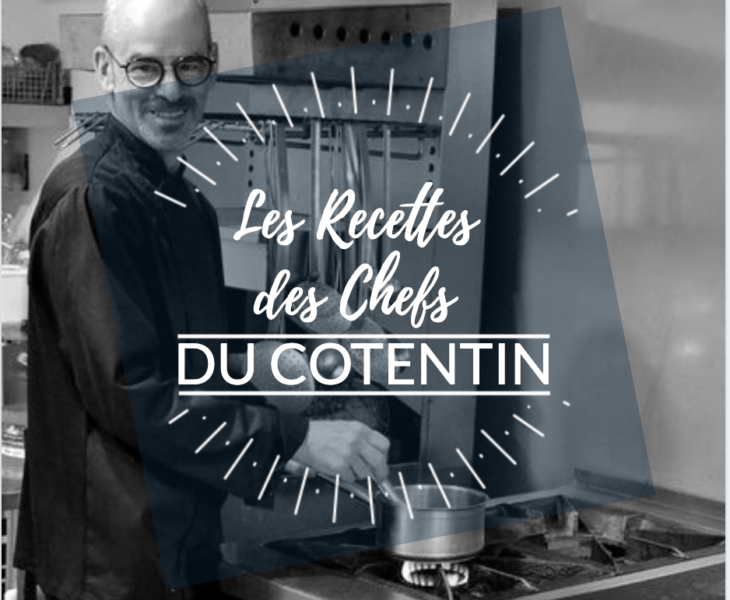 Let's share together the recipe of Chef Philippe Batard from Auberge du Vieux-Château in Saint-Sauveur-Le-Vicomte
Dairy products, market garden products, salt meadow lambs, fish, oysters, scallops… You will have understood that cooking and gastronomy are at the heart of life in the Cotentin region. And when it comes to gastronomy, product quality, know-how and sharing become essential to satisfy the taste buds of the most gourmet.
Cotentin Tourisme aims to help you discover the best addresses of Cotentin professionals. That is why we have selected for you addresses of producers, chefs and restaurants. All of them work to offer you quality local products and share with you their love of cooking and gastronomy. We invite you to discover them through their recipes, their desires or their portraits.
Norman gastronomy, a moment of sharing with the Chefs
On the occasion of Father's Day, Philippe Batard, Chef of the Auberge du Vieux Château in Saint-Sauveur-le-Vicomte, wanted to share his experience with you and offers you his delicious recipe for the roasted rack of lamb.
Originally from the Cotentin region, the Chef puts all his know-how to enhance the products of the Normandy region. Passionate about cooking, he has kept from his childhood, the love of fresh and authentic products. Its traditional cuisine highlights, as you will have understood, the flavours and local products. You will appreciate the delicacy and finesse of its dishes at the Auberge du Vieux-Château in Saint-Sauveur-Le-vicomte. It offers you local products throughout the seasons: oysters, scallops, lamb, saithe, market garden products (carrots, leeks…). He wanted to share with you today his recipe for a roasted rack of lamb:
The Chef's Recipe, by Philippe Batard
For: 4 people
Preparation / cooking time: 60 mn
900 g rack of lamb
120 g shallots
100 g carrots
1 clove of garlic
20 g oil
10 cl white wine
15 g butter
Salt, pepper
Bone the square and set aside the bones.
Peel the shallots, carrots and garlic.
Cut the shallot and carrots into small cubes and crush the garlic.
Heat the oil, brown the lamb bones in the hot oil and add 2/3 of the shallots, garlic and carrots.
Sweat for 5 minutes and add the white wine and 20 cl of water.
Cook for 20 minutes and strain through a sieve.
Place the rest of the shallot in the bottom of an ovenproof dish, add 15 g of butter
Put the rack of lamb on top and bake for about 12 minutes at 120°.
Remove from the oven and let stand 7 minutes before cutting and serving.
Ideal, if you are hosting… It is a beautiful Cotentin recipe to share with family or friends!
Do you want to find more restaurants in Cotentin in Normandy?